Innovation of the Month
<![if !vml]>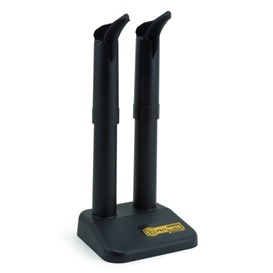 <![endif]> You've surely had the problem of wet boots before. You get back from your monthly ski trip and your ski boots are soaked. You return from a wonderful hike and the only problem is you are soaked from the knee down. Wet boots don't have to be a problem anymore if you own a boot dryer.
Yes, you heard right. A boot dryer: A very simple little contraption that hangs your boots upside down while circulating warm, dry air through them. This means a dry boot in near record time. Obviously, "record time" is not as fast as possible because you don't want to damage the footwear. Most boot dryers are set up to dry the boots as quickly as is safe for the boots' materials.
Where to Look for a Boot Dryer
Big stores such as Cabelas, Walmart, & Target all carry boot dryers if you are more comfortable walking into a store, but often times it will be better for you to look into other options to get the best dryer at the best price. Make sure you look around and compare. Here are a couple places to start:
What to Look For in a Boot Dryer
The first thing to look for in a boot dryer is the volume of boot drying you need to get done. Are you buying the dryer for just you? For your family of 5? For the cabin you rent out or a ski resort? Keep in mind that there are high volume boot dryers out there as well as individual dryers. On top of that, there are dryers with electric fans, dryers that simple hang the boots, and dryers that apply heat as well. Its all in what you need.
Reviews From Across the Web
Stephen:
"I use this to dry my water shoes and it works great regardless of how wet the shoes are. Although it takes a few hours to dry the shoes when they are the wettest, they dry fast enough to prevent them from developing the nasty stink that water shoes can get."
Robert:
"Low heat with gentle fans get the shoes and boots dry safely without damage to the material. Got a second set so we can both dry our soggy shoes at the same time."
Joey:
"takes up minimal space, quiet, does the job. No complaints."
Roro:
"I bought the peet dryer just for my ice fishing boots( feet sweat a lot) but I've used it for my hockey skates, damp sneakers, work boots. Also bought the glove dryer add on, and all had turned out dry everytime I've used it"
Hopefully you've learned something from this highlight today. If you have any questions, please feel to reach out to any of the sites we've mentioned above. Please keep in mind that we don't endorse any of the sites mentioned or any changes they may make after the publication of this article. We do however, love the idea of the boot & shoe dryer and hope you've loved the idea as well.